Productivity is Pivotal

for EDB Revenue Efficiency and Planning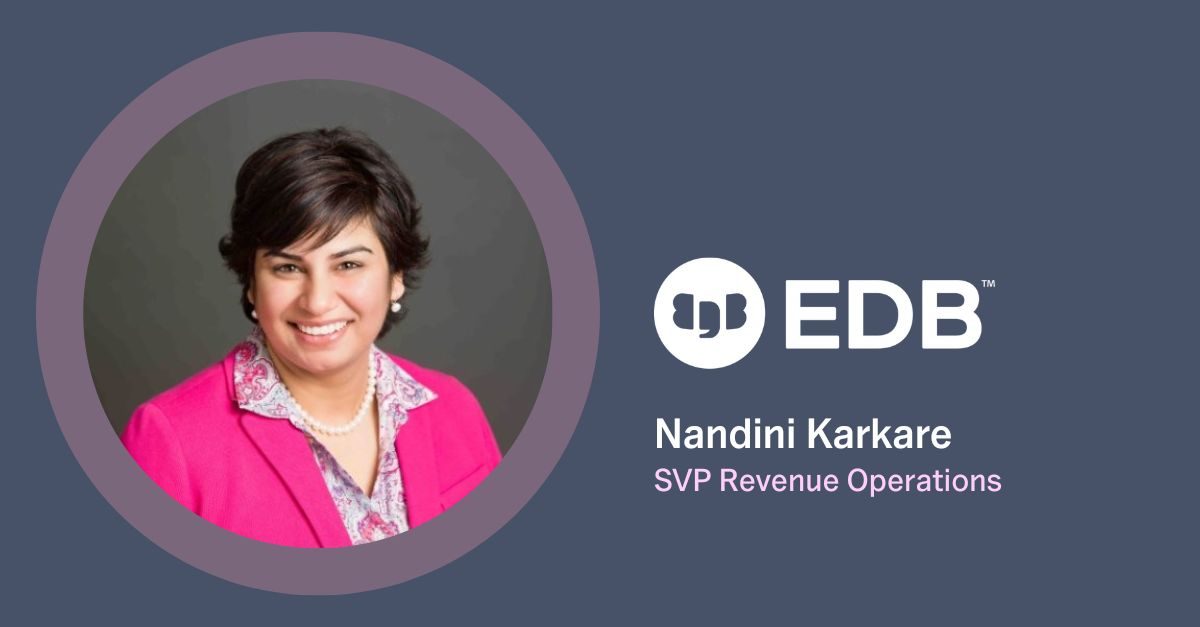 HEADQUARTERS
Bedford, MA, USA
INDUSTRY
Enterprise Software and Services
EDB provides enterprise-class software and services that enable businesses and governments to harness the full power of PostgreSQL (Postgres), the world's leading open-source database. 
The company is growing very quickly and has over 1,500 customers, which include some of the world's leading financial services, government, media & communications, and information technology organizations.
With a business focused on database success for its clients, EDB is leading by example when it comes to leveraging data to drive planning and operational performance. They believe that measuring and optimizing revenue productivity, return on investment and capacity is pivotal to achieving their goals.
Nandini Karkare, EDB's SVP Revenue Operations, joined the company in 2008 and has helped to institutionalize a data-driven approach to planning, decision-making and operational efficiency from a small sales team in the early days through to the enterprise scale global revenue team with over 90 sales reps in place today.
Nandini and the team at EDB see sales rep productivity and how it impacts capacity as key metrics they use to develop and achieve their business plans.
"Sales rep productivity is pivotal to the business plan. This is a painstaking exercise to keep up with through the year. People change, attrition happens, replacements happen.

This used to be something 2 people did once per quarter. It wasn't core to managing our sales force day to day."
Although they had being trying to measure and benchmark the productivity and capacity of their sales team, it was a completely manual process where they used complicated spreadsheet models that they were updating once per quarter as part of management reporting and only using them in hindsight.
Even on this infrequent quarterly basis, they found it almost impossible to keep up with all the changes that were happening day to day to affect sales performance such as reconciling for new sales reps joining, allocation changes or movement between teams, or any attrition that might have occurred.
As they grew, EDB had also built a sales enablement department but couldn't measure the impact of the investment in programs and initiatives this team was making. They wanted a clearer way to assess whether these investments were enabling them to ramp up sales team members more quickly and increase their productivity and the overall team's sales capacity.
Their goal was to make measuring and predicting sales productivity, capacity and ROI something they can do in real-time to measure the impact of initiatives as they happen. It should be core to their day-to-day sales force management as well as to their quarterly and annual planning process.
Nandini and the team at EDB chose Lative to automate their previously manual processes for measuring and benchmarking sales productivity.
"Frankly, it was a no brainer. This was very top of mind at the highest levels. Immediate value was visible when we saw what Lative could do. It made this an easy decision for us."
The key capabilities that Lative provided that convinced EDB to move forward were that it: 
Gives them an always-on, real-time view

 

Integrates seamlessly with Salesforce

Can map to the way their go to market team, opportunities, products, territories, etc. are organized in Salesforce

 

Is easy to use and digest so that not just data scientists but leaders across the revenue organization can use it

 

Gives leaders of all revenue-affecting teams the ability to identify areas to focus on, by team and right down to individual contributors, to improve performance

 

Can also give leaders a view of what is driving superior performance in certain areas so that they can apply this in other areas where relevant

 
After making the decision to go ahead, EDB found that during implementation the initial software installation and setup was very quick and easy and that the Lative customer success team was helpful and supportive.  
Although much of EDB's CRM data in Salesforce such as accounts, opportunities, win/loss etc. was very good quality, they did need to do some work to better organize and improve the quality of their internal user data in Salesforce. This work helped to enable a more accurate and in depth view of sales productivity and predicted capacity within Lative. 
Nandini noted that for companies who already have their user level data well organized, the time to value very fast. 
Nandini and the team at EDB are very positive on the time savings and real-time visibility they're getting on team productivity and performance. 
"Lative is easy to use and accessible right in Salesforce. It syncs with Salesforce and the integration is fast.

So long as your data in Salesforce is accurate, Lative will give you actionable insights into your business."
Implementing Lative has allowed them to free up the two team members who had previously done this work manually in spreadsheets and to move to an always up to date view in real-time that they can use not just for quarterly and annual planning, but to also measure, manage and improve the performance and efficiency of their revenue team day to day.
Lative is already making planning and reporting cycles much easier and lower effort, but to Nandini this is a lagging indicator of its potential as they begin to institutionalize its use at EDB. 
They love that they can see their current and predicted sales capacity in real-time. This allows them to validate the forecasts they're getting across their sales teams and gives them an early warning system on potential under or overperformance so that they can begin to adjust where needed in real-time.  
"Lative helps us identify where to focus, by teams and individuals as things change in the business."
They're now looking at how they can apply Lative to the investments they're making in sales enablement. Nandini expects that Lative's insights will become core metrics for the enablement team. It's not just about how many people attended training, or new modules delivered, but the impact that this makes on the business. 
"The real 'so what' around training and enablement needs to be about reducing ramp times, accelerating pipeline creation, and ultimately closed business.

Getting our enablement team using Lative to guide their efforts would be Nirvana for me."
EDB also intends to implement the new capacity planning and simulation features that were recently released in Lative. They will soon kick off their early planning process for the upcoming year and are planning to use Lative to inform and test their plans to ensure that they make the right investments to hit their goals. 
So, would Nandini recommend Lative to her peers? 
"I would definitely recommend Lative to other revenue operations and FP&A teams.

It's important to our investors, it's important to management and it's important to the core driving of the business.

If you're not looking at this, it's only because it's too painful to put together."
HAVE QUESTIONS OR WANT A CUSTOM DEMO?
We're here to help! Click the button below and we'll be in touch.