We are excited to announce the release of some major new functionality in Lative's sales capacity planning and revenue efficiency platform for Salesforce. We founded Lative with a mission to empower B2B revenue teams to maximize profitable sales growth and improve revenue efficiency. Today, we're taking a big leap forward with the introduction of our easy-to-use, powerful, and precise sales capacity planning and simulation module.
The new features we're releasing build upon our existing platform foundation, which makes it easy to take a real-time, always-connected approach to continuously monitor revenue performance across your business dimensions.
Lative's new capacity planning module takes this to the next level to give you unparalleled, up-to-the-minute visibility into your true sales capacity and model your hiring and action plans to reach your targets. You can test and simulate capacity plans using accurate and up to date productivity data that reflects your actual operational sales performance instead of using out-of-date spreadsheets, assumptions, and guesses.
See And Understand Your Current Capacity
When you first access this module, you can visualize your current sales team headcount and FTE, costs, and of course your sales capacity for the period you select. Lative uses your existing organization and productivity data to accurately calculate your expected capacity in the future. It also does multi-dimensional sales capacity planning so that you can further analyze your productivity, cost, and capacity data across dimensions like location, segment, type of business, product, etc.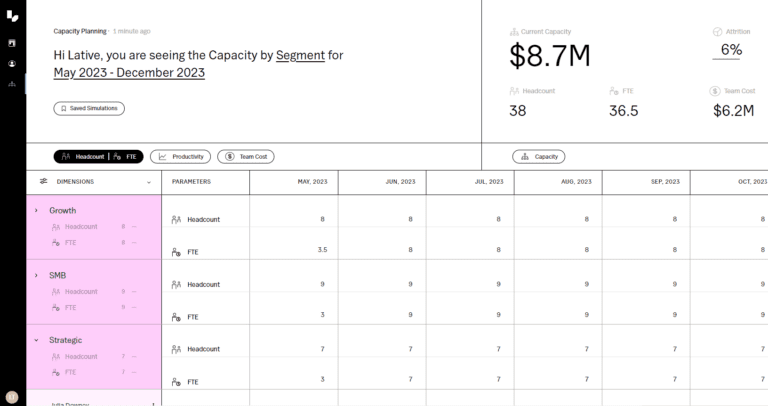 Simulate Investment and hiring plans and their impact on capacity
Once you've gained visibility into your current sales capacity, you can switch to "Simulate" mode and use our advanced planning capabilities. This powerful functionality allows you to quickly and easily design and test multiple "what if" scenarios for resourcing and investment decisions.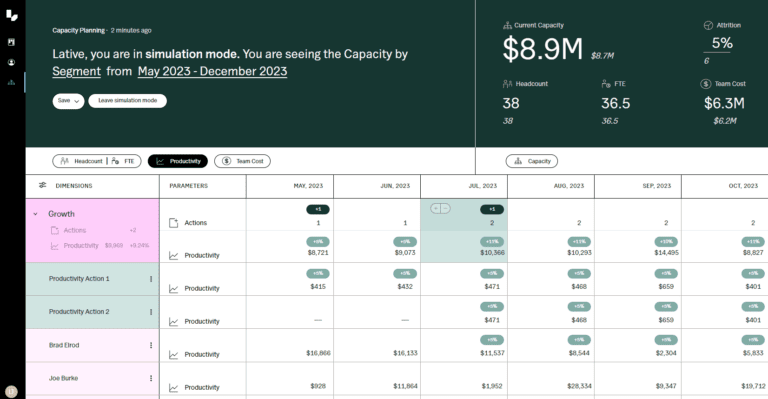 You can simulate complex, multidimensional changes to your go to market structure, resourcing, productivity and costs over time. This helps you to accurately test, adjust and justify investment, hiring, growth and even restructuring plans where needed. You can also simulate simpler tactical changes you're considering, allowing you to make quick and confident adjustments in real-time.  
For example: 
"What if we hired 12 new sales execs through the course of the next year?"

 

"Where should I hire those 12 sales execs"?

 

"What if we stop selling Product A next quarter?"

 

"What if I want to invest in another market in H2?"

 

"What if we shifted team members from Territory A to Territory B over the next 6 months?"

 

What if we increase our overall productivity by 11% next year?

 

"What if our Customer Acquisition Cost (CAC) decreased by 15% over the next 3 months?"

 

"What if I have people on temporary leave?"

 

"What if I have a sales team that is hybrid and sells 50% of their time on new business and 50% of the time on renewals?" "How does that impact their productivity and capacity?"

 
Save And Reuse Simulations
At Lative, we understand that there are lots of great ideas across teams, and that plans and budgets go hand in hand, so we've also added the ability to save multiple simulations to compare the impacts of each and build alignment and support for your plans across your organization.
And finally, these saved simulations can be shared and adjusted in future with all the data behind them staying up to date, so that you don't have to reinvent the wheel for every planning cycle and can move from infrequent, periodic planning to continuous planning without any added overhead.
Why Should You Be Excited?
Feedback from our community has been clear. Trying to do sales capacity planning using the old approach of manual data pulls and custom spreadsheet models is complicated, time-consuming and inaccurate.  
The costs of investing in the wrong places are high at $230k per sales person (or more) and the opportunity costs of not investing or investing late are even higher. With Lative's powerful and easy-to-use capacity planning and simulation capabilities for Salesforce, you can plan and invest with precision and confidence.
Every day in our company there are changes to our sales organization that impact our capacity. The only way to keep up to this is to measure capacity and update our plans as these changes happen.
The launch of our advanced capacity planning module is just the beginning. Our mission is to bring easy-to-use revenue planning and decision-making tools to B2B revenue leaders around the world, helping them use their operating data to cut through all the noise and focus on what's most important to maximize profitable sales growth and revenue efficiency. 
We will be working hard to keep enhancing and improving the Lative platform with a focus on ease of use and immediate business impact for our current and future customers. Some things we're planning next that we're excited about:  
Tracking the execution of your capacity plan selected to measure actual results against predicted results to understand what may be causing divergences and to quickly course correct 

 

Attrition calculation and adjustment

 

Broadening and deepening our integration with Salesforce

 

Expanding our integration partner ecosystem, ensuring seamless connectivity with additional CRM, Finance, HR, and other revenue-related systems

 

Further enhancements to our user interface, workflows, and the algorithms that power our advanced planning, simulation, and insights engines
Ready To Experience The Future Of Sales Capacity Planning For Salesforce?