There's never a dull moment here at Lative, and we're all ears when it comes to making your experience better. Whether you're part of the RevOps dream team, a sharp sales leader, or someone dissecting financial plans down to the last cent, we've got some updates you can't afford to miss. 
New and improved UI
The updated user interface (UI) features a refreshed experience aligning closely with the Lative brand identity. This not only enhances the visual appeal but also improves user experience by making the platform more intuitive and engaging.
Fine-tuning the headcount KPI  
We've retooled the Headcount KPI to showcase the total number of people on board as of the end date of your selected period. So, if you're analysing 'year-to-date,' what you'll see is the number of rockstars you've got as of today. No fuss, no ambiguity. The revised KPI cuts through the noise and hands you a precise snapshot of your team's size at the end of any selected period. 
Capacity planning: edit cell and percentage enhancements  
The capacity planning module now includes enhanced functionalities for editing cells and adjusting percentages. This allows revenue and sales operations teams to fine-tune their capacity planning with greater precision. The feature simplifies the process of adjusting forecasts and plans based on real-time data, ensuring that teams can respond quickly to changing market conditions. 
Territory adjustments: visual gantt chart FTE assignment 
This update introduces a visual Gantt chart for Full-Time Equivalent (FTE) assignment in headcount planning. This visual tool enables sales and finance leaders to efficiently allocate resources to their territories and adjust headcount in a timeline view. It's particularly useful for understanding how changes in resource investment impact sales capacity over time. 
Ranking table: efficiency and performance dashboards
The new ranking table feature in the efficiency and performance dashboards now includes key metrics like Average deal size by territory and Sales Representative, Return on Investment (ROI) and Sales Contribution. These additions provide sales and finance teams with deeper insights into individual and team and territory performance, helping them identify top performers and areas for improvement.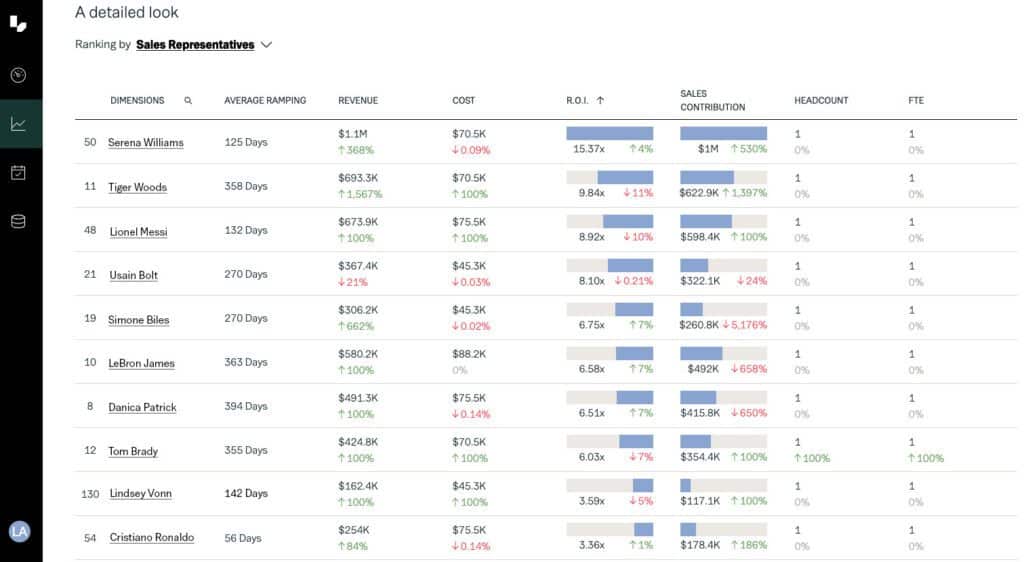 More updates worth your attention
Show profile card: link to view sales representative details 
With the new profile card feature, users can easily access detailed information about individual sales representatives. This clickable link within the platform brings up a comprehensive view of a salesperson's performance, aiding in better understanding and managing sales team dynamics. 
Sidebar new design 
The redesigned sidebar enhances the platform's navigation, making it more user-friendly and efficient. The new design focuses on simplicity and quick access to frequently used features, ensuring that users can find what they need without unnecessary clicks or searches. 
Individual productivity and actions on different tabs 
This feature allows for a more granular view of individual productivity by separating different actions into distinct tabs. It also includes a clear gap plan, which helps sales and operations teams identify and address any disparities between targets and actual performance. This is particularly valuable for tailoring coaching and development plans for each salesperson. 
Editable attrition assumptions in capacity planning simulations 
Alright, let's get into the weeds—but not too deep. Now you can punch in an attrition assumption when running a capacity planning simulation. See in real-time how attrition could influence your team's capacity. It's like having a crystal ball, but grounded in data. 
See and edit all saved views 
We're breaking down silos! Previously, you could only view your own saved views. We've leveled up this feature, allowing you to see views from other team members for better collaboration and everyone is looking at the same numbers.
Minor bug updates and smoother sailing 
We get it—no one has time for bugs, especially when you're in the fast-paced world of sales, finance, or operations. That's why we've also rolled out a bunch of under-the-hood improvements to fix those pesky bugs and enhance overall platform performance.  
These updates are part of our ongoing commitment to making Lative the go-to platform for modern sales and revenue teams. We believe these new features and improvements will make your strategic planning more straightforward, accurate, and yes, even a little more enjoyable. As always, we're keen to hear your thoughts. Your insights help us create a product that doesn't just meet expectations—it exceeds them. 
 So that's the roundup. Feel free to dig in, explore the updates, and let us know how they're making a difference in your day-to-day. We're all ears and always looking to fine-tune our platform to better serve you.